The Describe Plan Report
The Plan Report will summarize all of the data and formula logic by broadest combinations of rows and columns possible. It's like running the Describe Timepoint report for all of the columns, simultaneously.
Launch the report from the Analyze menu by clicking Describe Plan in English: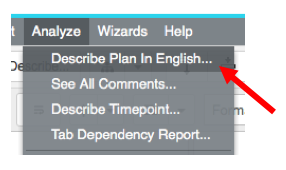 Or, click the Describe… button on the main toolbar:

The report will launch, like this: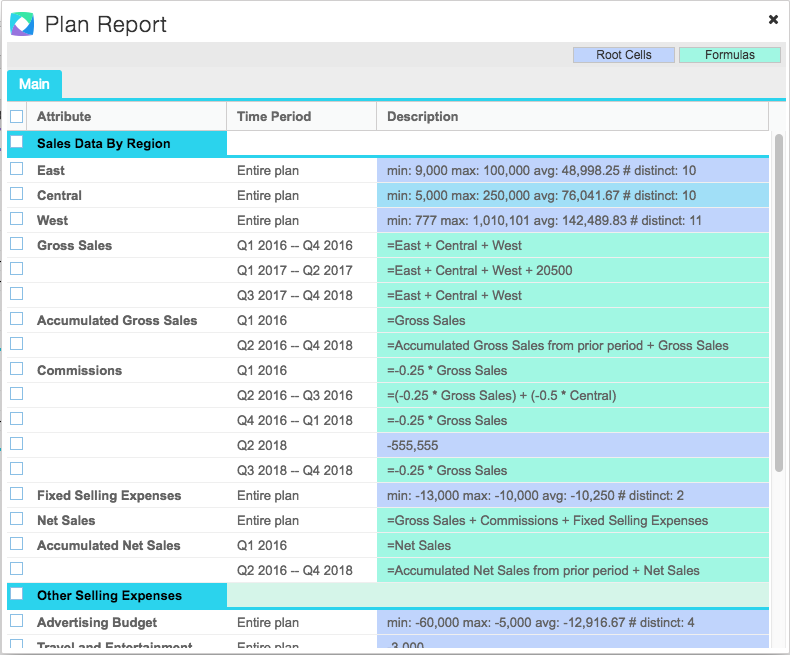 Depending on the organization of the model, the Describe Plan Report can be the easiest way to survey the data and logic for the entire plan. Each tab in the model will have a corresponding tab in the report.
Things to learn from this report
A well-formed plan with formula logic repeating from column to column will produce report rows like this:

A row that gets a starting value from a some other cell or assumption, but then changes consistently to the end of the plan will look like this:

A summary of the root values across one or more rows will be presented like this:

This can be a good way to learn more about the root data. The number of distinct values is shown to alert you to unexpected distributions. You might be expecting only one value, or different values for each column. Note that above, for whatever reason, the West row has 11 distinct values instead of 10.
The report will also reveal items worth looking into
In the above root cells example, note the color is different for the 'Central' row. This color is reserved for "computed constant cells", (or, hard-coded formulas, the dangers of which were discussed earlier). You can go back to the tab containing this row, click the Root Cell Type button and find these cells easily. They might warrant having comments.
Be aware of attributes that have more than two formula variations, like this:

In this case, a two sales quarter in 2017 have a constant of 20,500 being added to them. That's probably worth investigating, or at least commenting on, too.
Checking the checkbox at the left of the row will cause the cells that make up that row to highlight in the plan, like this: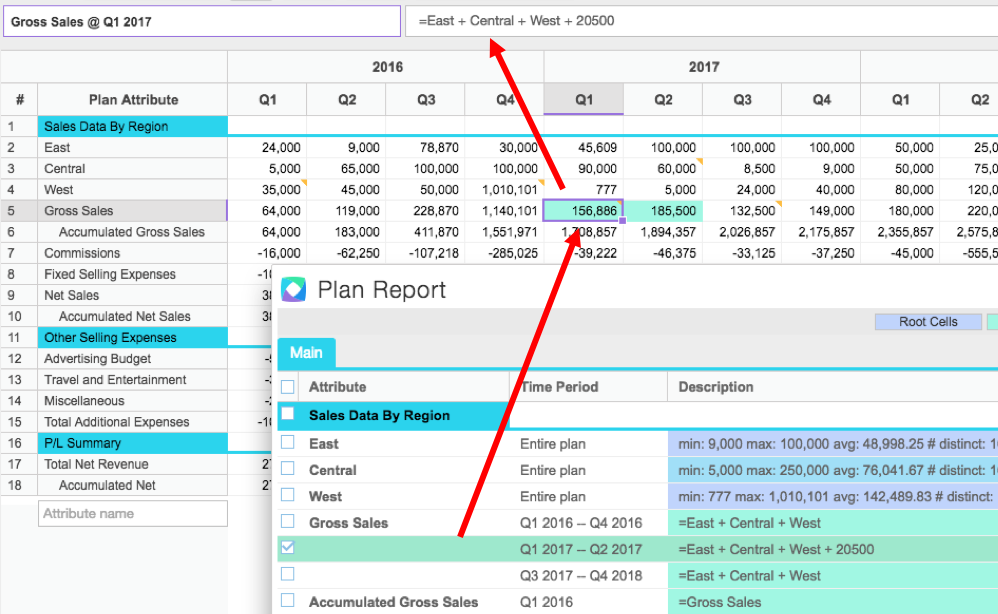 Depending on what you find with this report, any number of remedies may be needed, either within Excel (which will require a fresh import), or via ClearFactr itself.