Capturing and Reporting Comments
You and your team can collaborate on the model with proper context -- instead of via email -- by easily attaching comments to cells and then reporting all of them in one place.
Cell comments are created by you and/or your team members, in one of two ways:
Right click on any cell and select Comments...
The commenting panel will appear where new comments can be added and existing ones can be edited or deleted (if you created them -- comments from other users are read-only):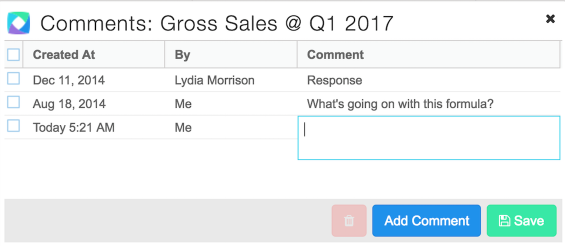 Or, add comments to the Current Cell from within the Cell Relationships Navigator...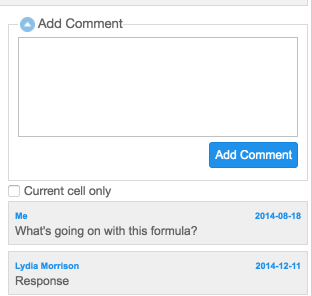 Use the Comment Report to see all the comments for the entire plan in one place.

The report will launch like this: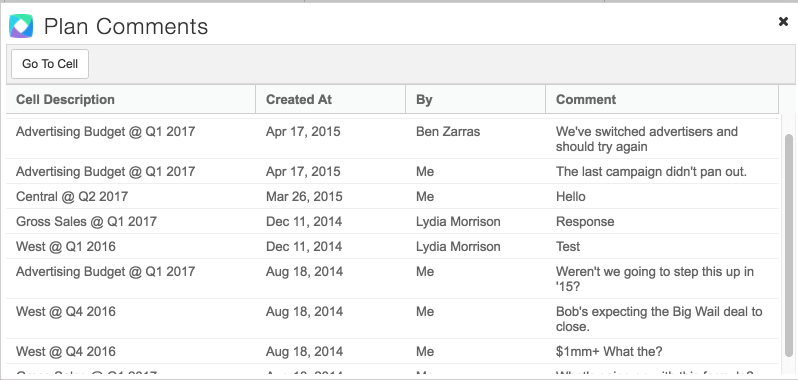 Note that you can click on a comment and then click the "Go To Cell" button on the Comments report to navigate directly to that cell in the model.
Any cell containing one or more comments will be denoted with a yellow triangle in the upper right corner, like this:

Comments are an essential way of capturing institutional knowledge and linking that knowledge contextually to the model. A plan that has no comments probably needs some!