Being able to easily share your work has always been an important part of ClearFactr. Now it's even easier with the release of a new, simplified sharing system.
Improvements
The interface on the sharing panel has been updated to feel more familiar to other in-app sharing mechanisms.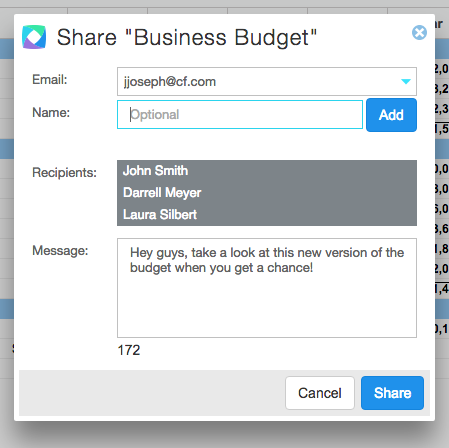 Add recipients by choosing existing ClearFactr users from the "Email" dropdown, or type a new email address into the field and optionally provide the recipient's name. You can now add as many recipients as you'd like, whereas the old system would only let you share with one person at a time. An added bonus is that the email field will now recognize lists of email addresses, so you can copy and paste out of your favorite email program or spreadsheet and ClearFactr will automatically add them to the recipient list.
ClearFactr encourages you to configure custom security permissions for each person you share with. Since you can now share a plan with multiple people at a time, the permissions feature has been moved off the sharing panel and is accessible from the Sharing Status section on the dashboard.

So go ahead and try sharing a plan with your friends or coworkers. We hope the experience is more streamlined than it was before. Feel free to reach out to us via email or our in-app live chat support. Happy sharing!